Comprehensive TDS calculations
Primo Payroll comes with a built-in comprehensive automatic TDS calculator that takes in to account every aspect of the statutory requirements such as Chapter 6(80C), Chapter 6A(80D), Section 24, Section 80, Tax exemptions & Taxable perks that includes FY2016-17 updates. Manual TDS deductions can also be done as per the individual employee's requests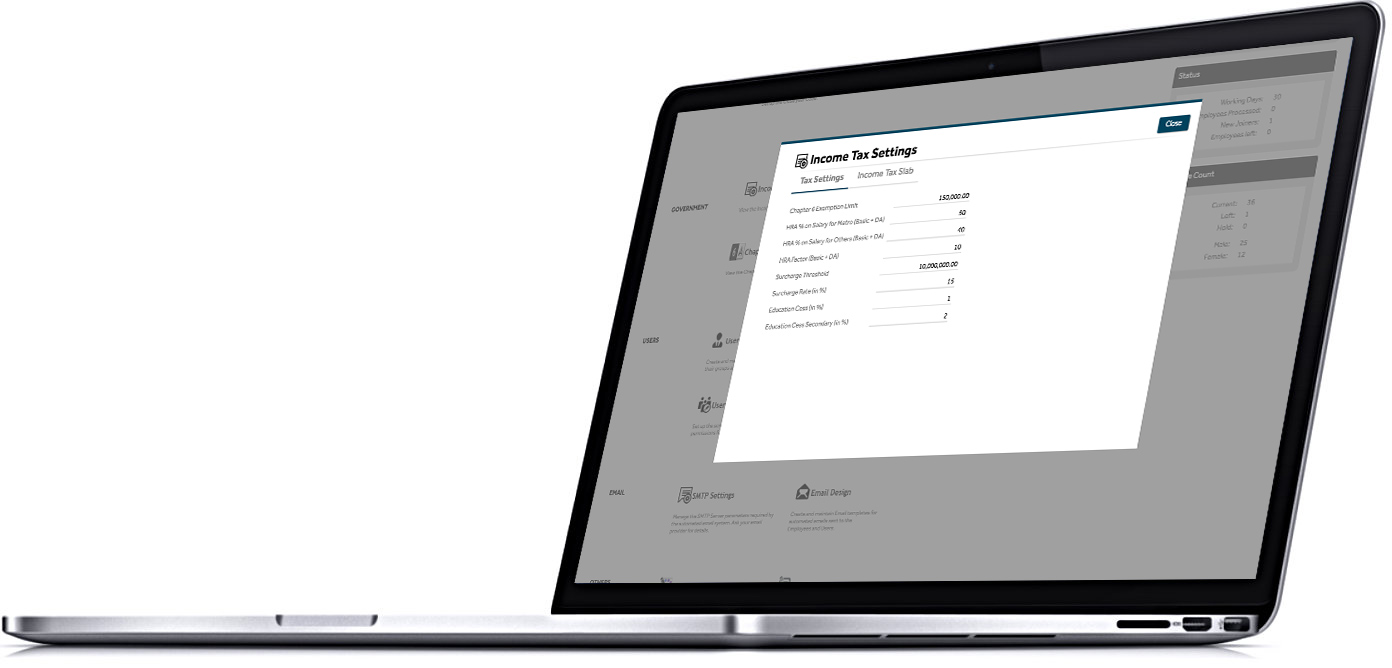 Customizable Payslip Layouts
Primo Payroll provides the ability to customize the content of your employee payslips to suit your business needs. The Payslip module enables self-service users to view their electronic payslip for a pay period. Users can select what pay period or view from a list of values showing the Pay Dates. All columns and fields in the Online Payslip function are display only. Once the user has logged into the application and clicks on the View Payslip option, the user sees an electronic version of their payslip based on their selected assignment and the last pay period that has been processed. Sample customized payslip layout is furnished here with this reference.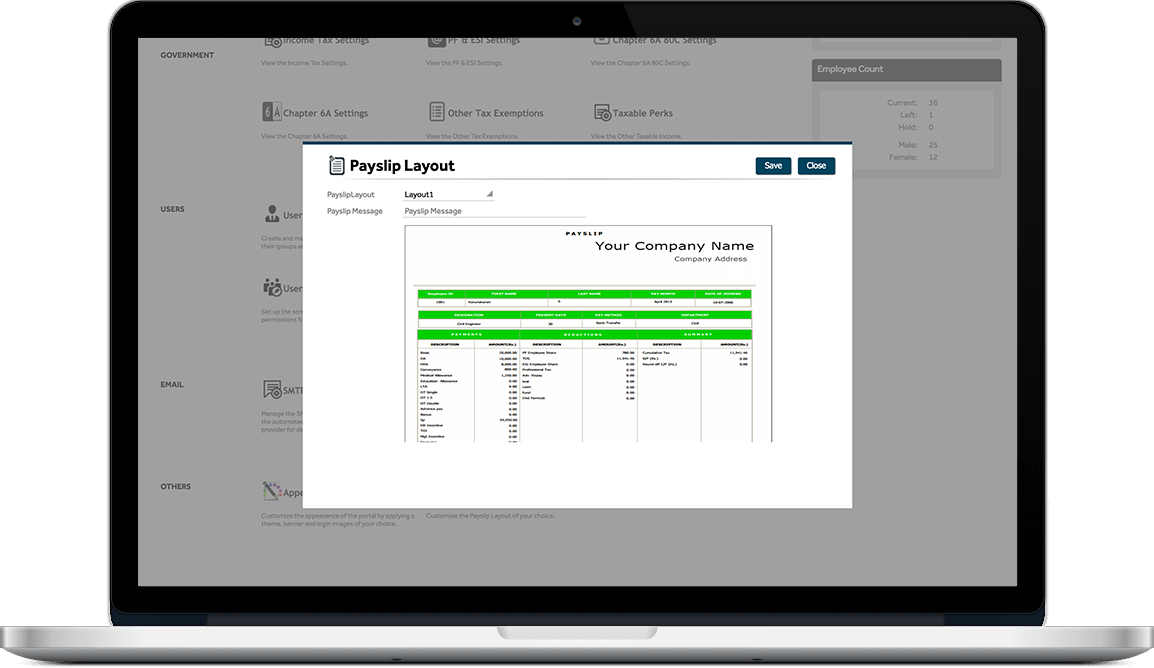 Payslip style Monthly input Screen
Primo Payroll provides a unique intuitive monthly input screen for each employee that resembles the final payslip. The software enables the user to add/edit inputs (employee payments and deductions) to the monthly input screen that reflects in real-time the final outputs of the payslip as you enter the data. The absent days can also be added in this monthly payslip entry screen so that final payment deductions for the month are calculated and presented correctly.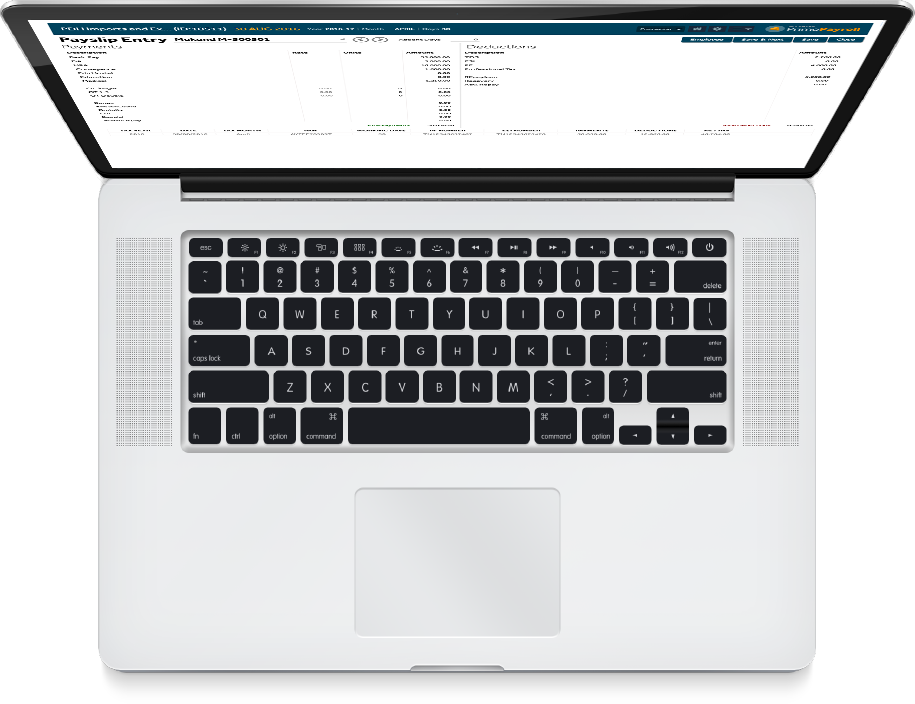 Impressive Payroll Features
Group entry Screen for Bulk inputs
This is yet another facility that enables the user to input details for batches of employees making the process much faster for bigger business houses with hundreds of employees. The group entry screen provides a spreadsheet style interface pre-filled with employee details and all the relevant payment and deduction elements.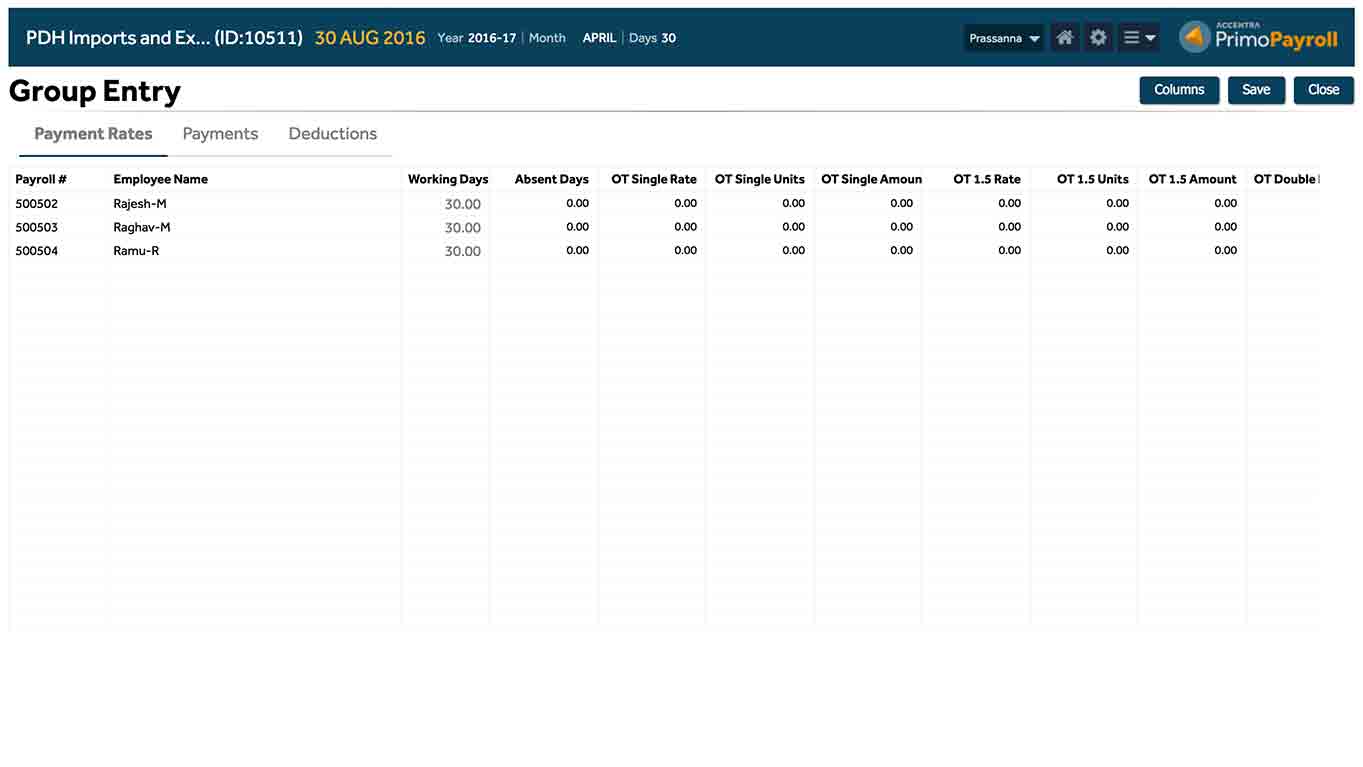 Powerful Global Update screen to apply changes globally to employee records and pay records:
This is a very powerful tool that enables changes like increase or decrease in payments or deductions for all records based on the data area and employee criteria selected. The data area consists of employee records and pay records which mean that the global changes can either be permanent or temporary. The criteria of the employee's tab is used for filtering using designation, department and branch parameters.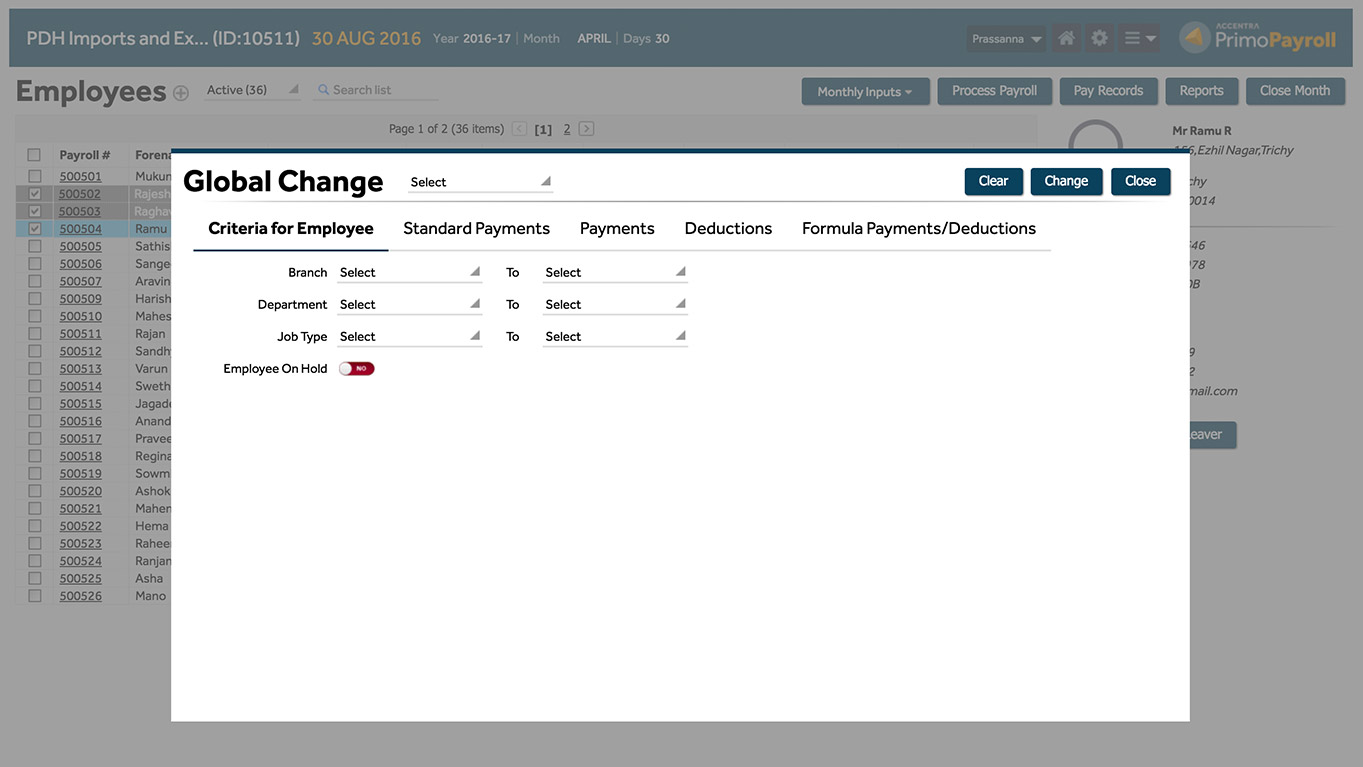 Employee Self-Service Portal
Employees can receive a portal login facility to see their own reports such as payslips, form 16 viewing, tax details and Tax exemption details etc. Employees can view their personal profile and update their password. If an employee has been enabled with a portal login, when creating an employee record, the Login credentials are automatically mailed to the employee's E-mail ID.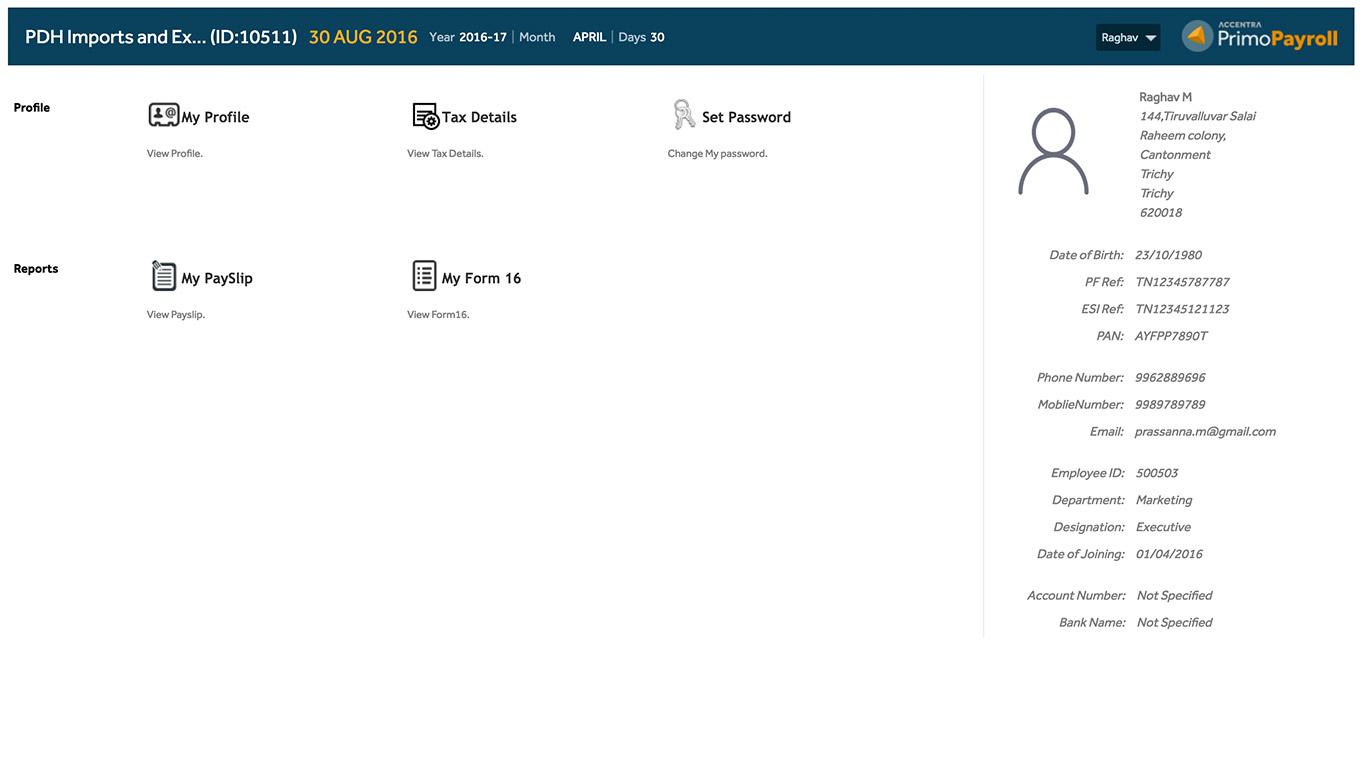 Form16 Generation & Management Reporting across multiple years
Primo payroll enables you to never lose sight of historical data and reduces your dependency on data backups or printed hard copies. Every single report is available across multiple years and offers straight forward business reporting. Using the drop-down menu in the report filter screen, you can easily view the previous years reports by specifying a period.
Form 16 can be generated for the current and previous years. This feature can be accessed by the company or by the employee themselves through their personal login.
A range of management reports can be generated by the company for the past and current year. All management reports can be created using the three level employee classification codes.
Email Payslips
Send and resend professional looking payslips to your employees by email. Customize the built-in email templates with your own message, signature and company logo. Payslips can be mailed to the whole company or selected employees. Historical payslips can also be sent by email.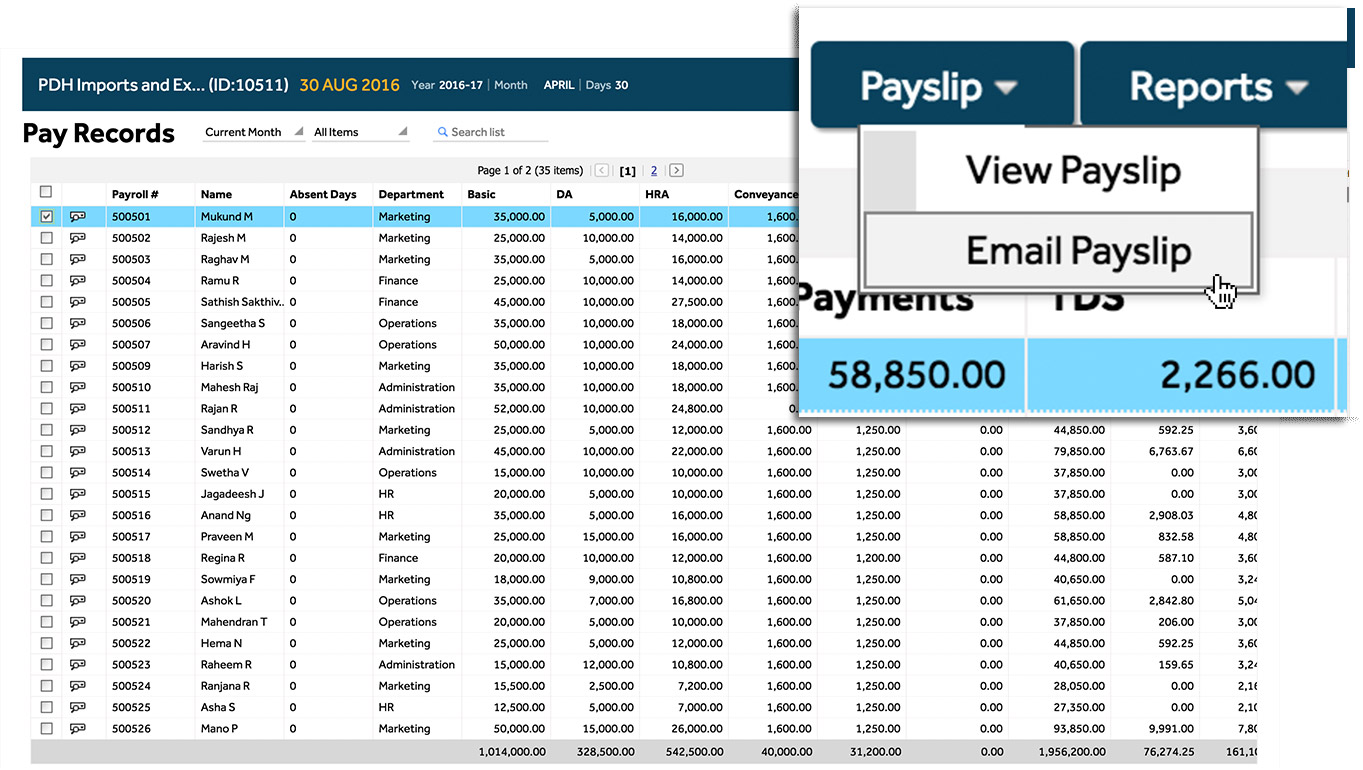 Brand your portal to make Primo Payroll your own
Easy Branding Options with your own company logo. You have the ability to include your logo in the Payslips. You can create your own email templates and messages that can be used to bulk email your employees.